JHW in the Community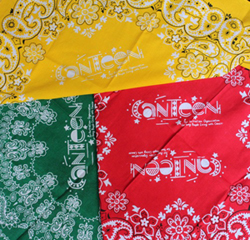 Every participant on JHW workshops gets a CanTeen Bandana. Over the last few years JHW has become CanTeen's biggest customer, buying almost 3000 bandanas.
The JHW team appreciates the privileged life that we enjoy and makes efforts to give back to the community in a meaningful and valuable way. We aim to provide around 5% of gross revenue back to worthwhile causes in the community in the form of donations, sponsorship, and free (or minimal cost) workshops.
One place on each public workshop is donated to a charitable (not-for-profit) organisation.
Not-for-Profit organisations that have to benefited to date include:
Brotherhood of St Laurence,
Turning Point (Addiction Counselling)
Royal District Nursing Service (RDNS)
Reach (Youth at Risk)
Canteen (Young people living with Cancer).
Salvation Army
Vic Swim
Planet Give
RYLA Rotary

Guide Dogs Victoria
Vakabauta
The Smith Family
Wildlife Victoria
World Vision
Able Australia
Leukaemia Foundation
Royal Institute for Deaf and Blind Children.
Should Not-For-Profit organisations want to send more participants onto workshops, we have an arrangement through Planet Give www.planetgive.com.au whereby up to 4 places per workshop are available at $500 per participant for NFPs. This includes all venue costs and represents over 80% discount on corporate rates.
We have received the following comments from past participants of Not–For-Profit Organisations:
"The course was absolutely brilliant. I have to say, it was somewhat confronting as it made me rethink all processes I had in place so far and evaluate what I was doing right and what I could do better. In terms of presenting, it has made me think about my audience and their needs. This course has provided me with the tools that I now will practise and implement in order to achieve greater results".

"Working for a non profit, due to financial constraints, you rarely are able to complete a workshop of this calibre. I found the course so useful in learning about myself and how others perceive me. I've learnt different techniques to better approach people when asking for different things that I may need when doing business. I highly recommend this course to anyone in a non-profit organization".

"Who would have thought you could learn so much while having fun. What a great experience to be part of the Consulting Workshop. The skills developed in regard to planning for meetings and also quadrant personality types were the most helpful and I have referred to them in conversation with several people since. I believe that my abilty to engage with people has been strengthened by this training experience. Thank you for the opportunity."
"Thanks for a great workshop. As I begin a new job, there are new skills that are required, your seminar has helped provide some of those skils which I now have to put into practice. Particularly, presentation and facilitation. I enjoyed the 3 days and the interaction. I was also reminded of the 4 quadrants of personalities and how they operate in everyday life. Many thanks for your Leadership. "

"Thank you for and engaging and informative experience. The course offered practical information that I can use in a variety of interactive situations. It also helped me know myself a little better!"
"I am overwhelmed by the on-going generousity of JHW in their hands-on support of CanTeen and our work. The courses delivered to our staff team were informative, interesting and immensely practical. In giving up his time to come and share his skills and experience, John has made a very real difference to the work we do with young people living with cancer. He has provided new ideas, approaches and frameworks to apply. We can't thank JHW enough!"
If you are from a Not-for-Profit organsiation and would like to take advantage of this offer please contact us.